Posted on
By Carl Lemelin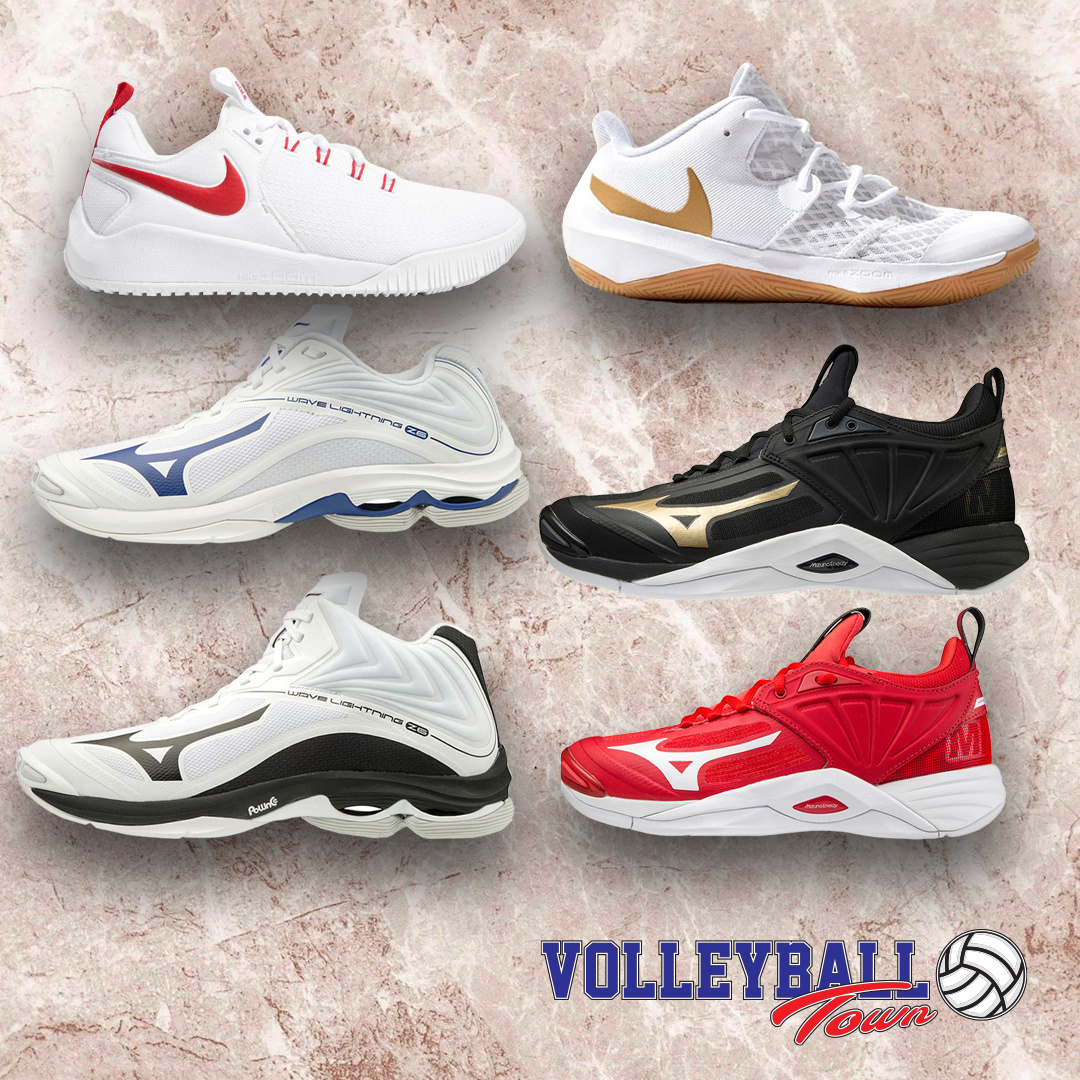 The volleyball shoe has evolved leaps and bounds in recent years. But what is it exactly that makes a great volleyball shoe, and what separates it from other sports shoes?
In this first installment of our volleyball blog, I thought it might be appropriate to get right into the most technical – and also the most crucial to high performance – piece of gear in your bag, the shoe.
At Volleyball Town, we offer a wide selection of shoe models that are specifically adapted to your favorite sport. It used to be that all you needed to play any sport was a running shoe. After all, what do most high-intensity sports have in common? Running.
This very simplistic line of thinking may have been justifiable at the recreational level, but when sport evolved at the competitive elite level, manufacturers started designing specialized sport shoes.
The very first volleyball shoe was produced in the 1930's. What shoemakers had to decipher was what makes volleyball different form other similar court sports like tennis, basketball, racquetball, badminton, and others?
It doesn't take very long for anyone who has basic knowledge of each one of these sports to come up with two major distinguishing factors: type of surface and prevailing movement. This would become the guideline for all the technological evolution we have seen in the sports footwear industry ever since.
In the 1970's, the direct injection sole would revolutionize the volleyball shoe industry. We now had an outsole that could combine the flexibility, energy transfer and grip needed to perform at the highest level.
Later came foam, air and gel injected midsoles that would complement the shoe's upper and outsole, adding even more energy transfer capabilities, but especially more comfort for those longer matches or tournaments.
Contemporary volleyball shoes offer these, and many more benefits. Shoe manufacturers keep using athlete feedback to improve their product year to year.
I will introduce you to the latest high-end models from our two best-selling suppliers, Mizuno and Nike, but first let's explain why it's so important to wear volleyball specific shoes to play your favorite sport.
WHY BUY VOLLEYBALL SHOES?
As previously mentioned, when comparing different sports on a footwear angle, we must consider playing surface and the physical movements repeated most often during a game or match.
Let's take tennis, for example. Like volleyball, tennis is a court game, but unlike conventional volley (no need for shoes when playing beach volleyball) it can be played indoors or outdoors, and it is played on a wide variety of different surfaces for which many different types of outsole grip materials and/or tread patterns are needed.
What about basketball, then? "Isn't that the same as volleyball?" you may ask, because it's played on hard court too. That's where prevailing body movement comes in.
As Mizuno Sales Rep. Ryan Emery puts it: "Basketball shoes are made more for cutting in and out, so they're built with more lateral support", adding "Volleyball players jump a lot more than basketball players do. They jump all the time, so our volleyball shoes are made to roll from heel to toe, they're more rounded (on both ends) for the approach to jumps."
"Volleyball shoes' support is built more in the middle," Emery explains.
Which brings us to the other ergo dynamics related difference between volleyball shoes and other court sports footwear: back-to-front flexibility.
Whereas in other sports, footwear engineers focus on stability in the front part of the shoe – since those athletes need lateral stability in the forefoot area, where most of their weight is concentrated during the game – volleyball players prefer a forefoot that is less stiff. Combined with the rounded heel, this provides a more free-flowing roll of the foot into each jump.
Other specific features found in volleyball shoes include more protective and robust toe boxes to account for the frequent foot dragging that is intrinsic to volleyball, and more gel, foam or air injected in the midsole for better energy transfer on jumps.
Volleyball shoes are also the lightest across all sports footwear categories, necessitated by the high energy nature of a sport that can call for multiple max-effort jumps during intense rallies and long, drawn out matches.
TOP-SELLING MODELS
Mizuno Wave Momentum 2: The most technologically advanced shoe we carry, this is the latest version of a shoe that derives its name from the ergonomic way it helps athletes perform on the court. MIZUNO ENERZY foam in the midsole transfers max energy on jumps and enhances comfort. The MIZUNO WAVE plate help disperse energy, providing more stability. New to this latest edition is a redesigned eyelet structure that offers optimal fit and less stress on the foot, while providing the most lateral support a Mizuno shoe has ever exhibited. The Wave Momentum 2 is offered in men's regular and mid bootie, and women's models. Click here for more info.
Mizuno Wave Lightning Z6: Mizuno's lightest offering, the Z6 is immediately noticeable by the double arched, inverted bridge shaped heel it features. This adds to the comfort and spring effect that the Pounce EVA midsole provides. The Lightning Z6 is available in men's regular and mid half bootie, and women's models. Click here for more info.
Nike Zoom HyperAce 2: Nike's sports footwear expertise comes in handy with their iconic Nike Zoom Air technology, ideally adapted to volleyball. The HyperAce 2 shoe benefits from the lightweight cushioning and responsiveness it provides. Another key feature of the HyperAce 2 is a TPU plastic heel cage that wraps around the backfoot when laced up for enhanced stability and support. Click here for more info.
Nike Zoom Hyperspeed: The Hyperspeed is more of a versatile court shoe. It does feature the enhanced midfoot support and toe box protective shield so crucial to volleyball players, but the Hyperspeed is built to cater to multiple indoor court sports. It is offered in unisex sizing. Click here for more info.
WHAT'S NEXT?
Volleyball shoes have improved leaps and bound over the past five years or so. That has us wondering what may be coming in the near future.
"In the past, the demand (from customers) was for a lighter shoe", Emery opined.
"Then we saw demand shift a few years ago to more support, and that's when we (Mizuno) came up with the Momentum."
From that, we can easily predict what the next challenge for volleyball shoe suppliers will be: how can we build a shoe that is as light as the ones we used to make and as supportive as the ones we are currently producing?
R & D divisions surely are working overtime as we speak (or write…) trying to come up with the lightest, most supportive, comfortable, and eye-catching volleyball shoe ever designed.
Stay tuned…